Roses are red, violets are blue if it's not from Trader Joe's, do we really it? Whether you are spending February 14th with a significant other, a furry friend, or just yourself, Trader Joe's has the perfect way to celebrate. All red, pink, and white products are sure to make cupid himself fall in love. Set the mood with Trader Joe's Best Valentine's Day Products of 2023!
1. For the Love of Chocolate Mousse Cake
Price: $4.99
With layers of chocolate cake and mousse, this treat will for sure satisfy that sweet tooth! Pair it with a cup of tea at the end of the night or maybe even a cocktail. Claims to be the piece that you're missing for true love…what more could you want than chocolate? As Audrey Hepburn once said, "Let's face it, a nice creamy chocolate cake does a lot for a lot of people; it does for me."

2. Heart Shaped Macarons
Price: $5.49
These heart-shaped macarons are guaranteed to steal your heart. There are four vanilla macarons with strawberry filling and four raspberry macarons with cream filling in each box, for a total of eight macarons. You can split them with someone or better yet, lean into your indulgence and keep them for yourself. Truth be told, these were gone in two days after the day of purchase, so yes, we highly recommend them.
3. Dark Chocolate Mini Heart Cookies
Price: $3.49
Keeping within the chocolate theme (again, who doesn't love chocolate?) these cookies are for our dark chocolate lovers. Every bite you get a piece of crunchy shortbread, fun sprinkles, and rich chocolate. Try them for yourself, but be warned, these mini bites of heaven are delicious and addicting.
4. Gummy X's & O's
Price: $3.49
We all know and love the gummies at Trader Joe's and these are just as good as the others. They are distinct flavors of berry, strawberry, and grapefruit. They're also soft, chewy, addicting ( the entire bag was gone by the end of this article) and oh so deliciously cute. Perfect for your sweetheart.
5. Belgian Chocolate Hearts
Price: $1.49
There could never be enough chocolate on Valentine's Day, right? As Charles Schulz said, "All you need is love. But a little chocolate now and then doesn't hurt." These heavenly chocolates have both white and milk chocolate PLUS a hazelnut filling. These decadent chocolate hearts will make anyone's mouth water with smooth chocolate and a nutty filling presented in a cute little heart. And for the price, we're happy to take home a lot of boxes.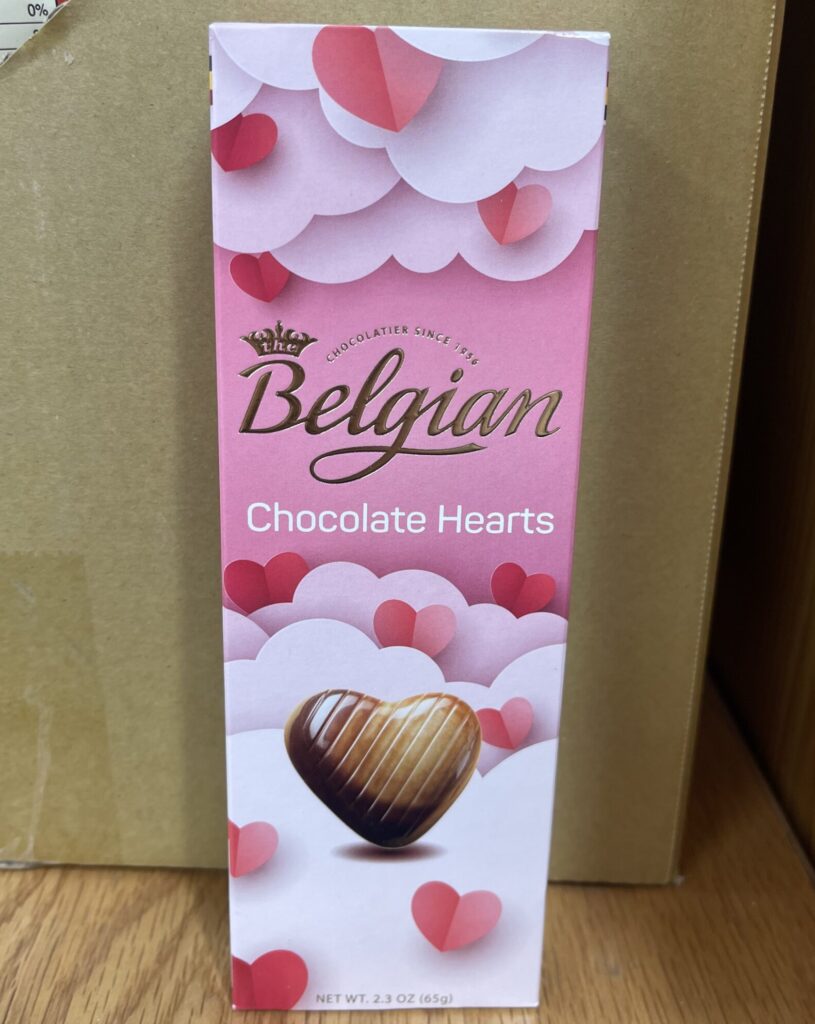 6. Handcrafted Felted Wool Garland
Price: $8.99
Remember when we said there's something for everyone? There really is! Decorate your space in festive pink, red and white colors to set the mood for a loved up V-day. Or use it to wrap up your present to your special someone.
7. Bouquets of Roses
Price: $9.99+
He loves me, he loves me not. If you're getting one of these bouquets he surely loves you! The flower selection at Trader Joe's is unmatched. Any significant lover or yourself would love to have fresh bouquet of flowers liven up any room. Grab that box of chocolates and pair it with a bouquet of gorgeous colorful roses for a simple, thoughtful, and beautiful Valentine's Day gift.
Now that you have all the essentials, go above and beyond with the perfect gift. Check out what we're giving to our bae's and boo's with The Sweetest Valentine's Day Gift Guide: For Him & Her.
Featured images courtesy of author & TraderJoes.com