From Edwardian chemises to tulle-laden 1950s prom dresses to distressed band tees from the 1970s, there is a vintage piece for every occasion, person, and mood. Vintage shopping is an experience in itself, a ritualistic homage-paying to a different time. It inspires the senses in a way that shopping for new, trendy clothes simply can't compare to.
Putting on a vintage item can turn an ordinary day into a glamorous, anything-is-possible, time-traveling adventure. Not to mention, you are doing the environment a solid by investing in previously worn clothes rather than new ones. We've rounded up the 10 best vintage stores in LA, so you can get to treasure-hunting.
1. Magnolia Blvd
Address: Magnolia Blvd, Burbank, CA 91505
If vintage and Halloween had a baby, it would be Magnolia Blvd in Burbank. Home to a majority of LA's film studios, you can find everything from studio wardrobe to vintage costume pieces from every time period. A couple of our favorites are Playclothes, Best of Times Antiques, Junk for Joy, and It's a Wrap. All of these gems are only steps away from each other, and parking is free.
LA Girl Picks:
Visit

Playclothes

for vintage home decor, accessories, and clothing ranging from the 1920s to the 1990s.

We love

It's a Wrap

not only for their constant sales but also because they sell real set costumes and props in addition to vintage clothing!

Best of Times Antiques

for home furniture, decor, clothing, and even books.

Bonus for dog lovers:

the owner's Black Lab calmy greets every visitor and helps with shopping needs.

Our favorite of the favorites is

Junk for Joy

. Go through racks and racks of the most colorful, theater-Esque vintage pieces!
2. Hidden Treasures Topanga
Address: 154 S Topanga Canyon Blvd, Topanga, CA 90290 (tucked away in the mountains)
This is not your typical Melrose shop or DePop browse. Think vintage broadway. Think 1920s psycho farm girl, Mia Goth in Pearl, or 70s teen Carrie White. Ranging from the early 20s to today, you'll see a lot of lace, crochet, funky patterns, and 'deadstock' fabric dresses. Most of them are labeled from their exact time period (who isn't a sucker for organization). While most of their pristine dresses and jackets go for about $80-$250 a piece, you can still be sure to find unique shirts and sweaters for up to $30. If you love the wrapped bandeau top or bohemian hairstyle scarf look, they are actually known for their diverse collection of silk scarves!
3. Topanga Vintage Market
Address: Victory Blvd at, Mason Ave, Winnetka, CA 91306
Open every 4th Sunday of the month, this flea market's next meet is October 23rd, just in time for last minute Halloween purchases. This vintage market is located towards the valley, about 30 minutes away from LA (yes including traffic). Topanga Vintage Market made it to our list for their unbeatable prices and unique vintage accessories. Our favorite finds include purses as early as the 1920s!
4. Owl Talk
Owl Talk is owned by two sisters and has been providing a beautifully curated, and surprisingly affordable mix of true vintage and contemporary fits for 25 years. They also carry gorgeous jewelry, and have a trunk of highly discounted clothing full of great finds.
5. Urchin
Few places do it better when it comes to everyday-wear vintage. Funky boots, and chunky heels line carousel after carousel of unique statement sweaters, graphic tees, 90s baby doll dresses, and 70s bells. They also have an eclectic and extensive collection of accessories (Think: those huge, mosquito-like, teal sunglasses you've been pining for…and the perfect scarf to go with them).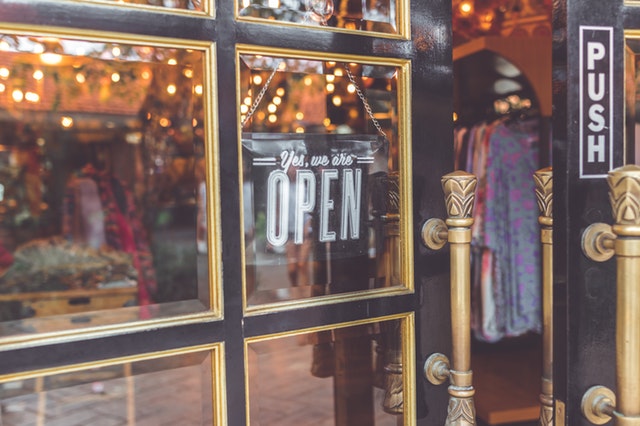 6. Ragg Mopp
With a half-off (and often $10) rack outside, and color-organized vintage party dresses on the inside, Ragg Mopp has something for everybody. While their dress situation is enviable, they also have an incredible selection of graphic tees, cozy sweaters, and gorgeous accessories. The owner is often there, and is one of the loveliest folks you'll meet. Come in for general good vibes and pretty things.
7. Lemon Frog
We love this place. It's divided up by price, so you can stay at the front of the store for more affordable options and head to the back for special occasions. They have a huge selection of (inexpensive) jewelry, and you can pick a free gift from a mini treasure chest with every purchase! Come here to find the perfect summer frock. You'll find three.
8. Paper Moon
At Paper Moon, you half-expect Rita Hayworth or Jean Harlow to float by you as you peruse glamorous pieces straight out of Old Hollywood. This is also a fantastic place for vintage boudoir wear and items for the Humphrey Bogart or Clark Gable in your life. While their Hollywood Blvd shop closed at the height of the pandemic, they still display all their valuable pieces on Etsy and also welcome customers into their LA home studio.
9. The Bearded Beagle
There's something soothing about this place. It's small yet spacious, and they're always playing great tunes to shop to. They lean towards bold, colorful pieces that will set your outfit apart but won't hog all the attention from your pretty face. Bearded Beagle is the perfect place to waltz into on a lazy afternoon after grabbing a sip of something just down the street at Covell.
10. American Vintage
American Vintage is a one-stop shop for evening wear and Halloween costumes. It's a trove of vintage classics-Chuck Taylors, petticoats, denim dresses…you name it. But beware: their inventory is so extensive, it is easy to get lost in the dressing room for hours on end. Bring water and snacks.
11. Timeless Vixen
Boasting the tagline, "Vintage Couture," Timeless Vixen is where you come to find the dress you're going to wear to accept your Oscar. Actually though, they dress tons of celebrities for awards shows. While you may or may not be in the market for a $45,000 Versace gown (yes, they have that), it is still a great place to visit if you love fashion and the styles of yesteryear.
12. BTS Thrift Store
This is the one store on the list that nudges more towards thrift than vintage BUT, we are putting it on here because of their incredible array of vintage home goods. It's not to be missed. Come here for fabulous 80s dining sets with bold artwork, check out their collection of vintage ceramics, and leave with just the thing you didn't know you had to have-it's that kind of place.
13. Raggedy Threads
This is your go-to for denim, band tees, suede, and all things Americana. It is dripping with cool and it's no surprise that it has a sister location in New York. Come here to find that elusive band tee from the 70s you wish your mom hadn't thrown out.
Now that you've caught the shopping bug, check out our article on the best places to shop in LA, or if you're shopping during the Fall season, peak at our pop-culture Halloween costume ideas before hitting up the shops!