Everything zen? Sometimes in Los Angeles, we don't think so. Thankfully, we live in a city that's a sanctuary for mystical, spiritual and neuroscience-obsessed brain and body hackers who want to help us work through the stress of urban outer life and decompress into a quieter inner life. We are lucky to have so many studios and meditation centers to choose from! Here are the best meditation centers in Los Angeles to bring out that Spring Zen. 
Eastside-ish:
Shambhala Meditation Center in Glendale
Rooted in Buddhism, Shambala-style meditation is a relatively modern style of meditation that focuses on the innate radiance and inner beauty of all human beings. One very famous Shambala teacher is Pema Chodron who wrote The Places that Scare You. The Shambala Center in Eagle Rock is more than just a place to come and practice meditation; they have created a community for all like-minded folk to find respite from the stress of the city. They have meditation groups specifically for Millenials, LGBT+ folk, People of Color, those in recovery, and even children. They have weekly dharma talks and open meditation a few days a week. They even have a meditation and painting lab to create dharma art! Most classes are by suggested donation and make sure to contact them first to see if they are going on that week.
Self-Realization Fellowship Meditation Garden in Mt. Washington
Paramahansa Yogananda was a yogi and spiritual leader who came to the United States and set up his beautiful centers of peace and contemplation throughout the world. We are lucky to have some of his most beautiful locations in our own backyard, including his meditation garden perched on top of a large hill in Mt. Washington. This specific garden feels like you are transported to Ojai, away from the chaos of the city. There are stone benches and seating everywhere for you to alight upon and light yourself up from the inside out. From some angles, you can see the City of Angels and from some your are tucked away and protected in a canopy of green leaves. There is also a little stream that runs through! A profoundly peaceful experience and it's totally free. Just one of the reasons we think this is one of the best meditation centers in Los Angeles.
Metta Meditation Center in Glendale
Metta meditation itself is a simple-loving kindness meditation that you direct towards both yourself and others. Metta is benevolence, or loving-kindness, and the act of meditation is certainly an act of loving-kindness towards yourself. This brand new studio in North Glendale is already making great impressions with a name like Metta! In an area where meditation studios are few and far between, Metta Meditation has set itself up as a warm, cozy, community meditation center with classes for those of all levels. Some of their classes includes yoga nidra (the yoga of sleep), mindfulness and crystal meditations. Classes are $20 per class, or ask about their new student specials.  
Echo Park/Silverlake/Hollywood:
The Den Meditation in Hollywood
Renowned as one of the leading mediation studios in the city, The Den Meditation stacks its schedule with experts in every field including hypnotherapy, EFT, Kundalini and more. If you are looking to try different modalities in a highly-polished setting, The Den Meditation has a location in Studio City, but its hub in Hollywood is in the epicenter of it all.
Angel City Zen Center in Echo Park
Located in a casual and peaceful enclave with a homey vibe in Echo Park, Angel City Zen Center is a perfect alternative to all those flashy, corporate meditation and yoga studios that are popping up everywhere. Founder Brad Warner brought his teachings in Zen Buddhism from Japan to create a modern community of everyday buddhists in the heart of Los Angeles. Almost daily classes are donation-based and sometimes they have a nice vegetarian lunch after class! All of this makes Angel City one of the best meditation centers in Los Angeles, for sure!
Kadampa Meditation Center in Los Feliz
Kadampa meditation is a type of Buddhist meditation that encourages practitioners to bring their spiritual beliefs from inside their sacred space out into the world. Perfect for people that are hustling and manifesting on their daily grind in Los Angeles! Enjoy the peaceful release of ego and the sense of needing to "practice" while at Kadampa. They have drop-in meditation classes on Monday for $15, but you can also enjoy a meditative morning with your family on Sundays at 9:30am! Wednesday evenings they also have a donation-based "alternative happy hour" with non-alcoholic snacks, 15 min meditation and 15 min dharma talk.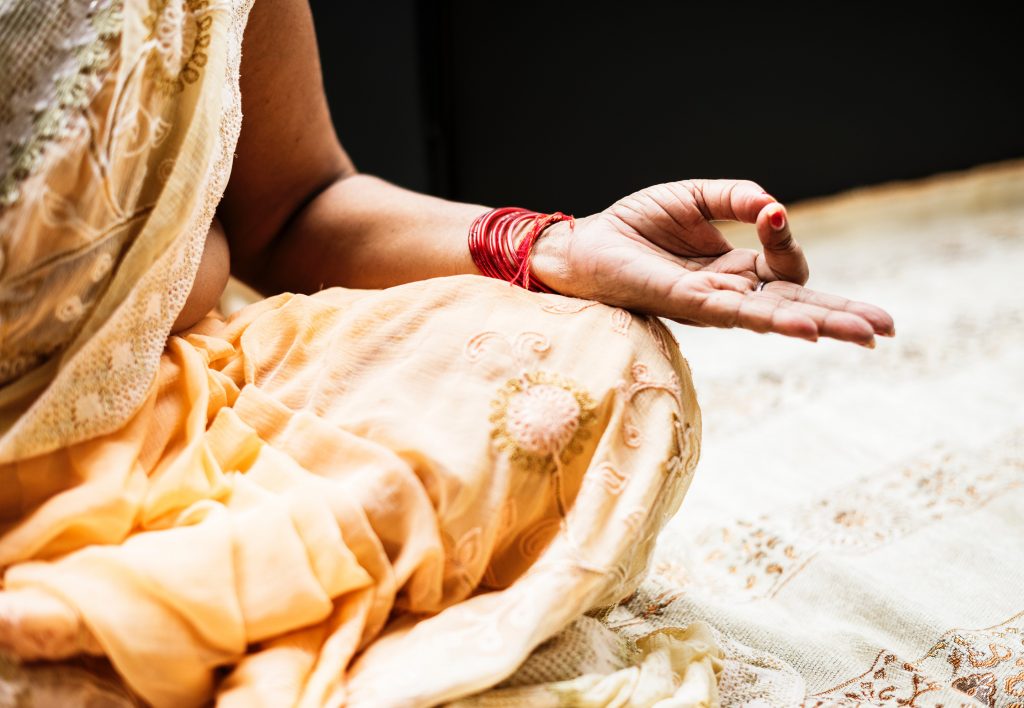 Mid-City/Westside:
Self-Realization Fellowship Meditation Garden in Pacific Palisades
With several locations all throughout Los Angeles, the location in Pacific Palisades, tucked away off of Sunset right next to the beach, is one of the most magical places in the city. Religious statues and icons surround a large lake carved out under the temple. You can wander from guru to guru, statue to statue and just meditate in the beautiful outdoors area. Or you can sit during open mediation in the large resplendent temple, or the smaller and more intimate boathouse. Entrance is free or donation-based.
Peace Awareness Labyrinth & Gardens in Jefferson Park
Another one of the best meditation centers in Los Angeles is in Jefferson Park! A hidden gem tucked away in one of the most urban areas of our city, the Peace Awareness Labyrinth and Gardens is a free, reservation-based urban retreat. The gardens are an oasis of sixteen water fountains, relaxing bamboo trees and benches to find peace in the present moment. For those who are interested in doing Walking Meditation, there is a travertine marble labyrinth you can walk. If you've never walked the path of a meditation labyrinth before, a docent can help! If you are looking for a more guided experience, the Peace Awareness Labyrinth and Gardens also has events coming up including a soundbath, and a candlelit labyrinth walk. Definitely check out this place, which is one of the best meditation centers in Los Angeles.
Studies have shown that meditation teachers will probably throw out a study or two before a class. So, who is it that does these studies? The fine people at UCLA MARC Center in Westwood do! MARC stands for Mindfulness Awareness Research Center. The keyword here is mindfulness, as their programming emphasizes the more secular, psychological idea of relaxing into the present moment. MARC has a plethora of options for both people new to mindfulness and those wishing to further their practice. From drop-in classes to six-week series to mindfulness facilitator trainings, you are sure to find a way to peacefully contemplate. They also have online courses for those that can't make it in person!
Venice:
Just the name Ceremony evokes a sense of tranquility and calm amidst the constant stress of urban life. To have a daily ritual, routine or ceremony can create the deepest feelings of security or safety. Ceremony wants to provide this for their students so that they may go "within their practices of meditation, healing, cleansing, self-growth and overall transformation." Meditate outside on a beautiful beach day or evening for a Healing Harp Soundbath, Aroma Reiki Meditation, manifesting your best Future Self and more.
Venice is just teeming with opportunities for holistic and spiritual healing. Sanctum is a gorgeous, multipurpose space that allows healers, teachers and practitioners to come together and enjoy a wide array of meditative styles. Some classes coming up in this minimalist chic meets Bali space include breathwork, animal exploration that includes guided imagery and a paint night meditation and art class!
Let all your worries float on. This is one of the more unconventional meditation options on our list, but also undoubtedly an experience that helps create peace, relieve chronic pain and give you your own sacred space to connect with your inner zen. You can float in water for 60 minutes, allowing your body to fully immerse itself in bliss, or try one of Pause's new meditation pods called the Somadome. Snuggle into your personalized meditation pod with color therapy, binaural beats and microcrystalline tiles.
Do you meditate? What are some of your favorite studios or places to invite your inner quiet to the party?