Photo Courtesy of The Art of Juice and Water
Whether you are a celery juice kind of gal or one that likes to throw the whole garden into every cup, you have so many options when it comes to grabbing a fresh and rejuvenating juice in LA. You also may have a juicer at home, but sometimes it feels necessary to treat yourself and take a break from all the cleaning and prepping (or maybe you need some great options for getting a boost of health while on the go!). As an LA girl, you need all the nutrients and yummy vitamins in an easy and convenient form. Grabbing a juice and going for a hot girl walk is one of our favorite ways to socialize, so let's check out these juicy spots. 
LA Girl Tip: You don't have to be on a cleanse or even a new-age type to enjoy a yummy juice! Also, the juice makers (juiceristas?) are usually super open to making you a custom blend of fruits and veggies that you love, so don't be shy to ask for their expert opinion. 
Locations: Los Feliz
When people are lining up for kale juice, you know there's something special here. Located in Los Feliz, Earth Organic is friendly and has the "basics" of local and organic ingredients such as celery, cucumber, and apple, plus some elevated goodies like dandelion and cayenne pepper (Yes, dandelion!). The shots and tonics will give you quite a kick. We also love the Linger, with lemon and ginger as the real stars. 
Locations: Los Angeles, Venice, Silverlake, Santa Monica, Studio City, Calabasas, etc.
It's easy to get carried away in Erewhon and spend a car payment-sized amount on produce and vegan confections, but we think the juice bar here is a must. Not only is a tasty and healthy, but it is also a great place to sit outside and take meetings or just people-watch all the fitness gurus. Our LA Girl pick is the Liver Love, featuring carrot, apple, beet, and a surprise goodie. Yum!
Locations: Beverly Hills
This gorgeous Beverly Hills store's mission is to provide organic juices, smoothies, elixirs, and infused waters crafted to create a multi-sensory journey of reconnection with nature? Yes, please. The cold-pressed juices are hydrating, well thought out, and very picture worthy. We are in love with the Heart Beet, which adds in a dab of rosewater. 
Locations: Mid-Wilshire
If you want Old Hollywood mixed with modern juice miracles, Beverly Hills Juice Bar is the place to hit up. Raw since 1975, while you are there, make sure you learn about the late and great founder David Otto's own personal journey into improving his health and launching this legendary store. The Club purchases the majority of their produce at farmer's markets, and you truly can taste the difference. We highly recommend the Berry Coconut or if you're feeling brave, try the Hot Tomato Tonic. 
Locations: Los Feliz
Los Feliz's Punchbowl offers a cold-pressed juice menu that often shifts to ensure 100% organic ingredients and optimal freshness, but regulars agree that you can't go wrong with "the green one". Juices also come with a super cool bottle that you can repurpose for more juice or fancy home decor. This hotspot truly feels like an apothecary, so go get that "medicine".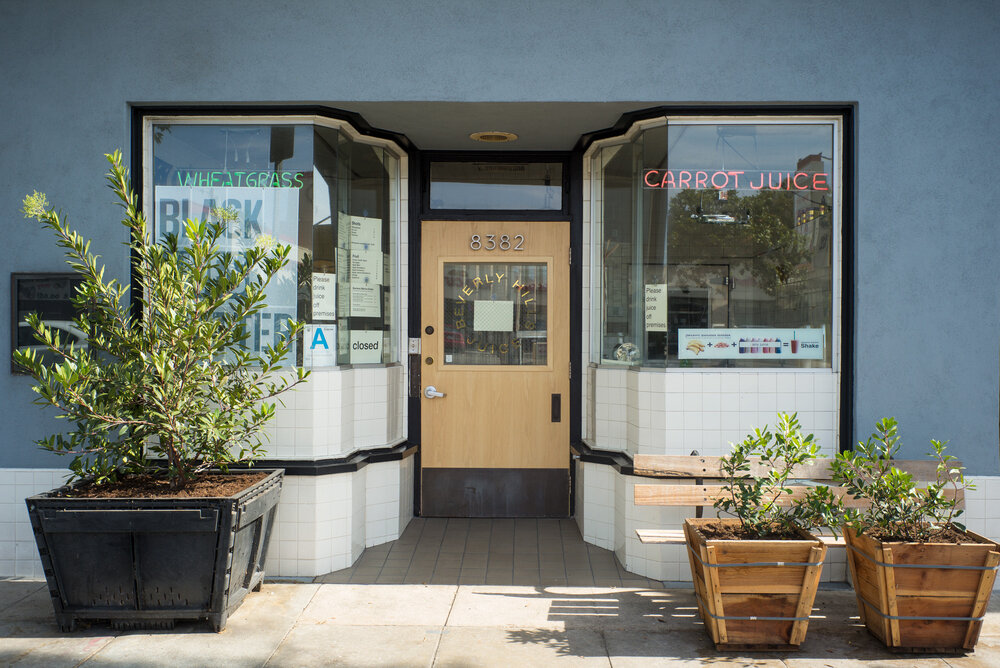 Locations: Downtown LA, Silverlake, Pasadena, West Hollywood, Beverly Hills, etc.
This is the go-to place to take one of your juice hesitant friends, as it is a very first-time juicer-friendly and fun, colorful non-intimidating experience (that was a mouthful). Kreation also has great snacks and gluten-free/vegan snack options too, so it is truly fit for anyone.
Locations: Downtown LA, Silverlake, Los Feliz, Beverly Hills, Century City Mall, Marina Del Rey, Santa Monica, etc.
With names like G.O.A.T Juice, Recover Me Softly, and Heart Bae, whoever names the drinks at Juice Crafters deserves a raise. The clever names are a great entryway to healthy, fresh, and tasty beverages. Juice Crafters also has multiple locations, so there is bound to be one near you.
Locations: Downtown LA and Silverlake
A great pick me up on the way to the Silverlake dog park or to get a boost before a day of running errands. We love the Life Line drink and found a new favorite way to incorporate grapes in our drink that isn't wine. 
Locations: Downtown LA, Glendale, West Hollywood, Culver City, Century City, etc.
If the juice bar had a "scene," Earthbar on Santa Monica would be where it's at. The stores are expansive, clean, and friendly to both the juice connoisseur and the first-timer interested in seeing what all the hype is about. You can radiate luscious well-being from the inside out with the Radiance drink, which features a revitalizing mix of fruit, veggies, rose water, and chlorophyll. 
Locations: West Hollywood, Century City, Thousand Oaks, Los Angeles, Calabasas, Manhattan Beach, etc.
Drink up that sunshine in a cup! Come for the matcha and healthy snacks, and stay for the signature juices. Our fave is the Malibu Sunrise which is loaded with oranges, strawberries, and carrots. This hot-spot juice bar is Located in Malibu, West Hollywood, Century City and Calabasas, and beyond. 
Locations: West Hollywood, Beverly Hills, Century City, etc.
With several locations spanning all around Los Angeles and Southern California, Pressed caters to a diverse juice-loving audience. If you want to go big and become a regular, they also offer VIP and membership programs along with cleansing kits and juice fasts. P.S., Our fave juice is the Pear Basil Chia.