Getting to Brooklyn might be tough, but once you get there you'll be glad you made the trip. Brooklyn is a food haven and you're going to want a delicious meal after strolling through the Brooklyn Botanic Garden or attending a concert at the Barclays Center. Skip the endless Yelp scrolling and check out these restaurants in Brooklyn that have long standing, five star reviews from very happy customers. Each restaurant serves a wide variety of meals and cuisines to satisfy every craving. Sorry not sorry for making you hungry.
Address: 1 Dekalb Ave, Brooklyn, NY 11201
The Szechuan menu at Han Dynasty doesn't disappoint. The restaurant's team creates the tastiest pork belly buns, dan dan noodles and mapo tofu with minced pork. The venue gives big portions whether you order a meal or grab a drink at their bar. Plus, the tea and rice in your order doesn't come with an extra charge. Try it for yourself. They're open from 11 AM-10 PM on Tuesdays and Wednesdays or 11 AM-2 AM on Wednesdays through Sundays. You'll discover why Japanese restaurants are the second most popular Asian food venues in America, thanks to the Han Dynasty menu that pops with flavor and variety.
The LA Girl's Pick: Spicy Beef Noodle Soup With Taro Milk Tea

Address: 372 Fulton St 2nd Floor, Brooklyn, NY 11201
Delicious snacks should still be an option even after sunset. The clever menu at the Sunken Harbor Club is worth the visit. Enjoy a drink in the venue themed like a sunken pirate ship. It's a hidden bar above Gage and Tollner is also worth exploring. The wood-paneled walls and ship-themed decor set a relaxed tone for an entertaining night. High-end eats include salt cod fritters topped with salsa negra. Check out the entrees and desserts while the bar's open from 5 PM-11 PM every night.
The LA Girl's Pick: Coconut Braised Pork Ribs With a Star Cycle Cocktail
Address: 252 Schermerhorn St, Brooklyn, NY 11217
The owners of As You Are encourage people to have food-centric social moments from breakfast through midnight. The laid-back, farmhouse-inspired restaurant inside the Brooklyn Ace Hotel serves menu options for every meal. Walk in for a quick cinnamon roll or make a reservation to try their rhubarb tart after dinner. There is a keto menu option to support your ketone-powered weight loss goals while on vacation. Add As You Are to your Brooklyn itinerary if you're free from 7:30 AM-10 PM on Sundays through Wednesdays or 7:30 AM-11 PM on Thursdays through Saturdays.
The LA Girl's Pick: A Buddha Bowl With a Turmeric Ginger Tonic
Address: 292 Ashland Pl, Brooklyn, NY 11217
Who says vegans can't enjoy junk food like everyone else? Next Level Burger is here to satisfy your every craving without compromising your plant-based diet. Get a mouthwatering Beyond Meat burger seasoned to perfection with a chocolate rainbow shake made with dairy-free ingredients.There's something for everyone, even if you just stop by for a vegan buffalo chicken sandwich. The restaurant is open daily from 11 AM-10 PM inside the Whole Foods Market on Ashland Place.
The LA Girl's Pick: A Smash Patty Fire ChzBurger With an All-Natural Colorado Cola
Address: 445 Albee Square W, Brooklyn, NY 11201
Repeat Brooklyn visitors and locals make time to stop by Dekalb Market Hall when they're in town. The location is a haven for foodies with over 40 vendors and live events happening every month. It's even home to Han Dynasty, which may have caught your attention at the start of this list. Whether you want American, Italian, Pakistani or Asian food, Dekalb has it all. Don't worry about placing a reservation either. The indoor dining spaces are open to whoever walks in the venue's many doors between 11 AM-9 PM Sundays through Wednesdays and 11 AM-10 PM on Thursdays through Saturdays.
The LA Girl's Pick: An Arepa de Queso With an Organic Orange Juice

Address: 112 Bond St, Brooklyn, NY 11217
The airy pink lighting in Café Kitsuné welcomes everyone through the front doors while they're still bleary-eyed from sleep. Try one of their coffees on your way to another activity or dress up and meet friends for breakfast. The cafe is full of natural lighting that boosts your immune system while chatting with friends or working on the venue's free Wi-Fi. See it yourself from 8 AM-6 PM Sundays through Thursdays or 8 AM-7 PM Fridays and Saturdays. You'll find out why it's one of the most recommended restaurants in Brooklyn for people seeking a caffeinated pick-me-up.
The LA Girl's Pick: A Matcha Latte With a Jam Crumb Cake
Address: 472 Fulton St, Brooklyn, NY 11201
People flock to Fulton Hot Dog King when they see the red and white awning draping over Fulton Street. The restaurant first opened in the early 1900s, so you know they're the best in the hot dog business. If you don't want a juicy chili cheese hot dog, they also have veggie burgers and chicken cheese steak sandwiches hot off the range. Get an authentic Brooklyn meal while you're on the go any day between 7 AM-8 PM. It's right near the downtown area so you'll be close to whatever's next to your itinerary.
The LA Girl's Pick: A Snappy Hot Dog Topped With Sauerkraut and an Ice Cold Snapple
Address: 290 Livingston St, Brooklyn, NY 11217
The customers at Kuun Korean always have the best time. The restaurant is well known for its top-tier customer service and high-quality entrees. Order a box or entree combo to try a little bit of everything or indulge in the restaurant's signature hot stone bibimbap. There are even dessert options that include a three-layer chocolate cake so you can celebrate your birthday while you're in Brooklyn. Stop by any day from 11:30 AM-10:30 PM to order a meal or a cocktail made with Korean spirits.
The LA Girl's Pick: LA Kalbi BBQ With a Gochu Margarita
Address: 298 Atlantic Ave, Brooklyn, NY 11201
It wouldn't be a trip to New York without getting some pizza. Place an order for Sottocasa's pizza bianche or rosse options to try something you can't get at a typical NY style pizza parlor. The fresh veggies and savory mozzarella will have you coming back for seconds. When you're ready for dessert, split a Nutella pizza with your friends. It's all available from 5 PM-10 PM Mondays through Thursdays, 5 PM-11 PM on Fridays, 4 PM-11 PM on Saturdays, and 12 PM-10 PM on Sundays.
The LA Girl's Pick: A Large Tartufata Pizza With an Espresso Martini
Address: 409 Atlantic Ave, Brooklyn, NY 11217
You'll feel like you've traveled across the world when you step into the Eurocentric venue of Bacchus Bistro. The owners curate their menu from inspirational French dishes and wines. The exposed brick walls and authentic hardwood floors evoke French countryside architecture in the middle of Brooklyn. Browse the high-end menu to choose from dishes like mussels marinières with sarladaise potatoes and magret de canard with a fennel pureé and a blood orange glaze. It's one of the most well-known restaurants in Brooklyn beloved by locals and visitors alike. The venue requires reservations to ensure seating for every interested customer. Call ahead or create your reservation online to enjoy the finest French cuisine between 5 PM-10 PM daily and 12 PM-4 PM on Saturdays and Sundays for brunch.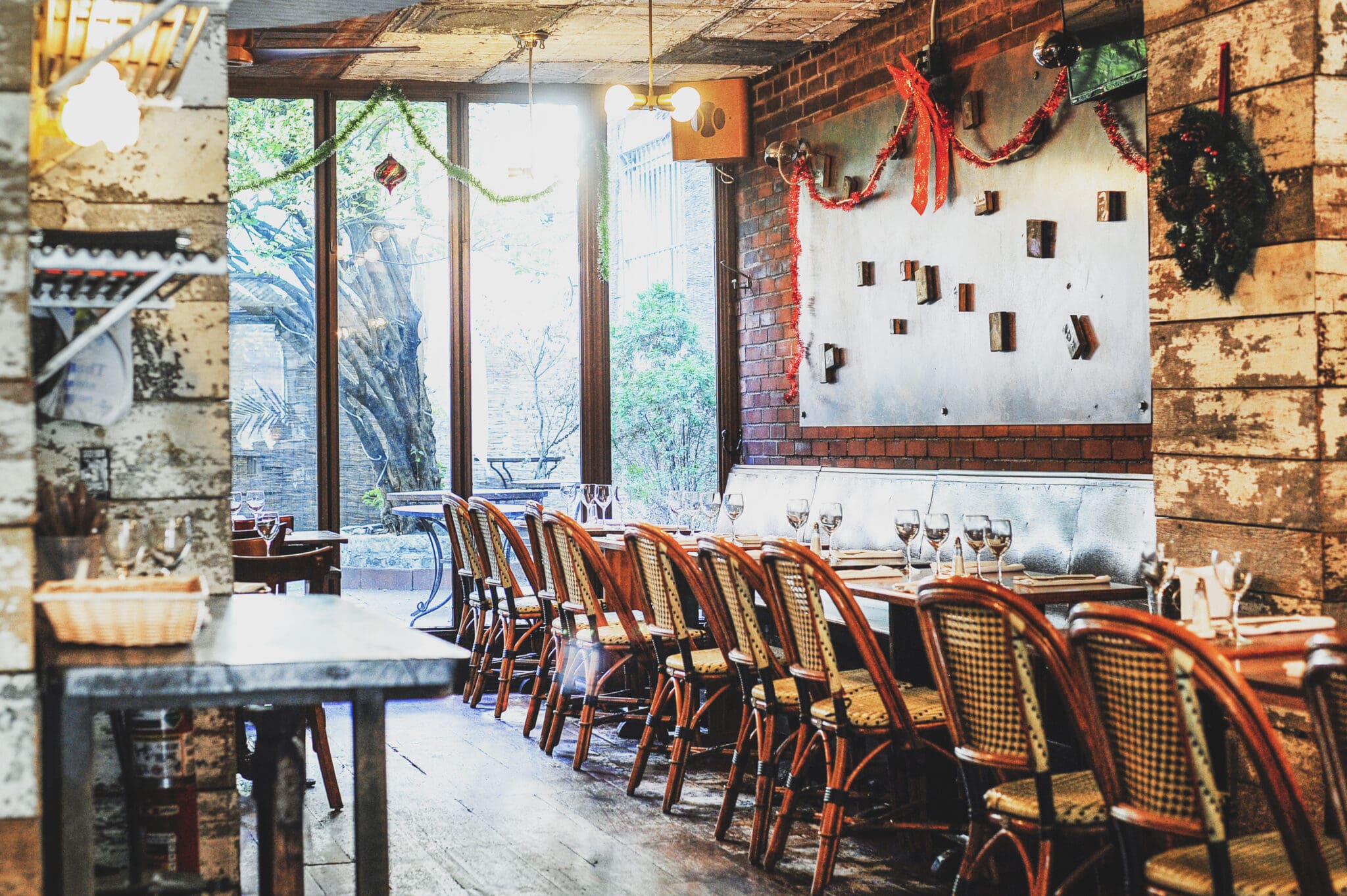 The LA Girl's Pick: The Flounder Filet and Golden Potatoes Purée
After finishing your meal in Brooklyn, check out fun things to do in New York City, even if you're traveling solo.