I didn't know that I already had Supergoop in my beauty regimen from a sun protection kit that I had bought from Sephora. There was a setting mist in there with SPF and I was already using it after applying makeup. So when I learned that Supergoop was throwing at event in LA at Body by Simone, I was thrilled!
I was excited not only to take one of Simone's amazing, butt-kicking classes that leaves you sore for days, but also to meet the founder of Supergoop, Holly Thaggard and co-owner Maria Sharapova. I could barely contain my excitement! As a huge tennis fan, as I've been watching Maria Sharapova for years. So to get to interview her and take a class with her was pretty epic! But more about Supergoop…
Launched in 2007 by industry pioneer, Holly Thaggard, Supergoop! ​is the only prestige skincare brand completely dedicated to UV protection. They strive to create products that women and their families actually want to put on – that are lightweight and easy to apply and backed by the latest innovations in UV protection and clinical research. Supergoop! is formulated with only the highest quality ingredients, always free from any controversial ones.
Few people today realize that skin cancer is one of the most commonly diagnosed cancers globally (one in every three cancers diagnosed is a skin cancer), and yet one of the only cancers that is primarily preventable. Furthermore, 90% of the signs of aging are caused by the sun. Supergoop! is dedicated to conquering this growing global skin cancer epidemic.
In 2014, Supergoop! found its perfect match in tennis champion Maria Sharapova, who became a co-owner of the brand. Together, Holly, Maria and Supergoop! are spreading the important message of sun protection 365-days a year.
Tell us more about Supergoop.
[Holly] A friend of mine had skin cancer and with my background in teaching, I wanted to build a brand that was more of a lifestyle to encourage people to make healthy choices about their daily regimen. 
[Maria] I found the product in Sephora a couple of years before I even met Holly. I loved the enthusiasm behind the brand and how its mission started with skin protection and prevention against skin cancer.
Unlike other beauty brands where SPF is just an addition, with Supergoop's mission to prevent skin cancer and creating products that are easy to use and feel great on the skin, We always think of sun protection as an extra step, Supergoop creates product where it doesn't feel like an extra step, that it's part of your beauty routine. It's a much easier habit to create. I use the Everyday Sunscreen, I love the formula, it doesn't sting my eyes and I stay protected up to 90 minutes.
Say what?! SPF in moisturizer or foundation is not enough?!
[Holly] So many women think that their tinted moisturizer of foundation with SPF in it is plenty, but the truth is, to apply it as generously as you should to get the needed protection, you would need to over-apply so much that it wouldn't look natural.  
The key is to start with something that absorbs into the skin, disappears completely while delivering hydration. The Supergoop City Serum is my favorite go-to, it's really lightweight. My second favorite product is the Setting Mist which you can spray on top of all your makeup. After a spin or barre class, it's a refreshing way to apply your SPF.
[Maria] It's a really good primer, I use it before I put my on my foundation. My skin really glows after I put the foundation on, which I really love.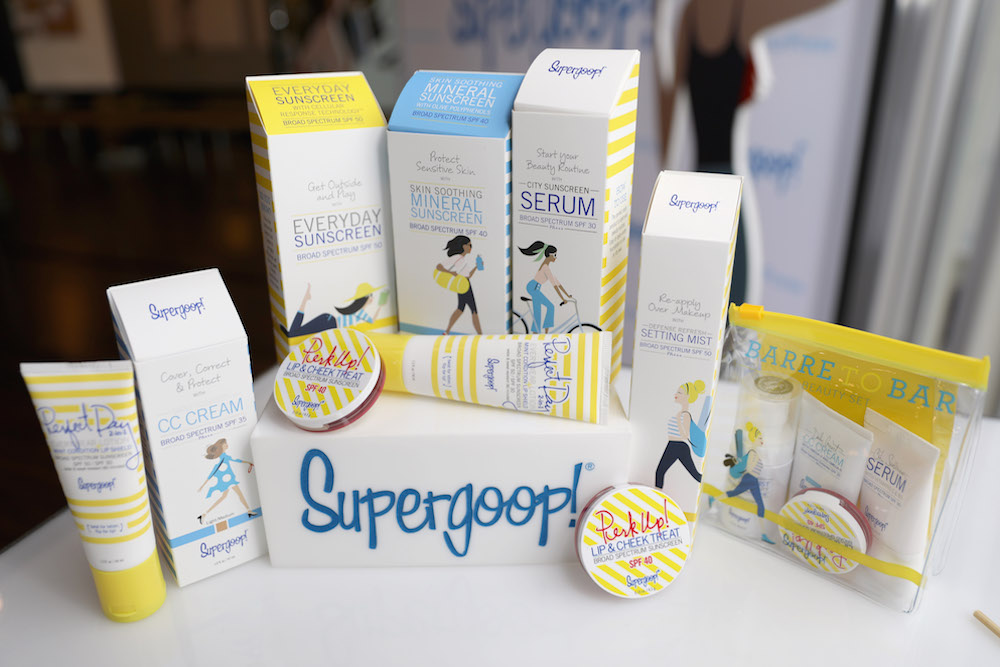 Besides, Supergoop! what's one beauty product you can't live without?
[Maria] Water, because it's hydration. It's part of being healthy and necessary for glowing skin, with great results. We often think of formulas that are so complicated and expensive, but we forget that sometimes it's the most basic things that are the most valuable.
[Holly] I can tell which days when I forget to prioritize water. The next day, I feel more sluggish so it really is a beauty product too.
What's your advice to other women entrepreneurs?
[Holly] For me, we were starting our family when started Supergoop, we didn't have children yet. One of the things my husband told me early on was to learn how to ask for help. So many women, particularly, take on too much and they're scared to ask for help.
Make sure that everything you're doing the kids see you front and center and then everything else can be delegated to someone else. When you take little chunks of time out of your day to do errands and all these things, it can add up to a meaningful chunk of time that you can focus on your business and be present when it really matters. 
[Maria] There's no exact rule for everyone. Everyone has an individual path and it's never too late or too early to start. I think if you have a meaningful and quality idea and you're passionate about it, ultimately, no matter how long it takes, it will eventually get you to the top.
What's next for Supergoop?
[Holly] I'm headed to Southeast Asia to launch Sephora. We're super excited about it! The climate is one where we need to talk about sun protection and we have some new formulas that will hit the stores in Spring 2017!
[Maria] Supergoop has established itself in the United States in the recent years. And now the goal is to understand the consumers and the markets where it is needed.
And while you're here in LA, what's your favorite thing to do?
[Maria] I love the Broad Museum and the restaurant next door. That was a great experience, I love being in the Infinity Room, it was beautiful – she's one of my favorite artists. I love being outdoors and that's the great thing about being in LA, seeing the sunset and be inspired.
[Holly] For me, it's about the beach. Being from Texas, I don't have the ocean nearby. I love the water, I love the sound of the ocean. Hearing the water last night from my hotel room last night was amazing. My kids are 8 and 11 and they love being near the water. When we're here together, we're usually at the beach.
About Holly Thaggard, Founder + CEO of Supergoop!
Holly Thaggard​ is the Founder and CEO of Supergoop!, ​the only prestige skincare brand completely dedicated to UV protection. A suncare industry pioneer, she is leading the charge to conquer the growing global skin cancer epidemic.
Holly's journey began twelve years ago when her close friend was diagnosed with melanoma at age 29. Holly was shocked that someone so young, and otherwise healthy, could get skin cancer. She reflected upon her experiences as a third-grade school teacher where she often witnessed children playing outside without a trace of sun protection and realized that early prevention of skin cancer is key. ​She identified a void in the market for an effective, healthy, and "feel-good" sunscreen brand.
With the help of great chemists, she formulated the dream sunscreen – Supergoop! Everyday Sunscreen, a feel-good, efficacious, healthy sunscreen free of controversial ingredients like parabens, oxybenzones and synthetic fragrance. Supergoop! has since evolved into a broad range of suncare products that nourish, protect and beautify while providing super broad spectrum protection against UVA, UVB and infrared rays.
Holly enjoys entrepreneurial conversations, traveling with her husband and two children, snow skiing, entertaining at home, reading business profiles, Fun Fridays with her Family and keeping fit. She is most passionate about inspiring young people to take care of their skin every single day.
About Maria Sharapova, Tennis Champion + Co-Owner of Supergoop! 
Maria Sharapova is the winner of five Grand Slam titles and is an Olympic silver medalist. She is just one of a handful of players to hold all four Grand Slam titles – Wimbledon (2004), US Open (2006), Australian Open (2008), and Roland Garros (2012, 2014). She has held the World No.1 ranking for 21 weeks and has won 35 singles titles in her career.
Maria made history on numerous occasions when Forbes named her the highest paid female athlete of all time in 2005. She has held that title for a record 11 years. Raised in Sochi, Sharapova holds a number of firsts for her native Russia. She is the first Russian to become World No.1, is the only one to hold a career Grand Slam, and is the first woman to carry the Russian flag at the Olympics (2012 Summer Olympics in London). Additionally, she acted as an Olympic Correspondent for NBC's coverage of the 2014 Sochi Winter Games.
As an international icon, Maria garners worldwide press coverage both on and off the court with a dominating social media presence that includes 14 million Facebook fans, more 4.8 million Twitter followers and 2.2 million followers on Instagram. She serves as an ambassador to many of the world's top luxury brands and a number of Fortune 500 companies including Porsche, Nike, Evian and HEAD. In 2007, Sharapova became a Goodwill Ambassador for the United Nations Development Programme (UNDP) and has made significant contributions to Chernobyl-related projects in her native country. In 2012, Sharapova flexed her entrepreneurial muscles and debuted her eponymous couture candy collection "Sugarpova", with a portion of its proceeds benefitting the Maria Sharapova Foundation. She is also co-owner of Supergoop!, a skincare company dedicated to SPF protection. Sharapova resides in Bradenton, FL.
Disclaimer: In the spirit of full disclosure, this post contains affiliate links, which means that I may get a commissions if you decide to purchase anything using the following links.