Sprawling Los Angeles, known for many things like authentic Mexican food, beautiful celebrities and healthy green juices, is a huge city. At a whopping 4,320 square kilometers and a population of 18.55 million, LA is known as the world's 7th largest city. So with 87 neighborhoods and countless things to do, where do you begin? I've broken down LA's major districts and suburbs in this guide to Los Angeles neighborhoods so you know where to explore and what to expect.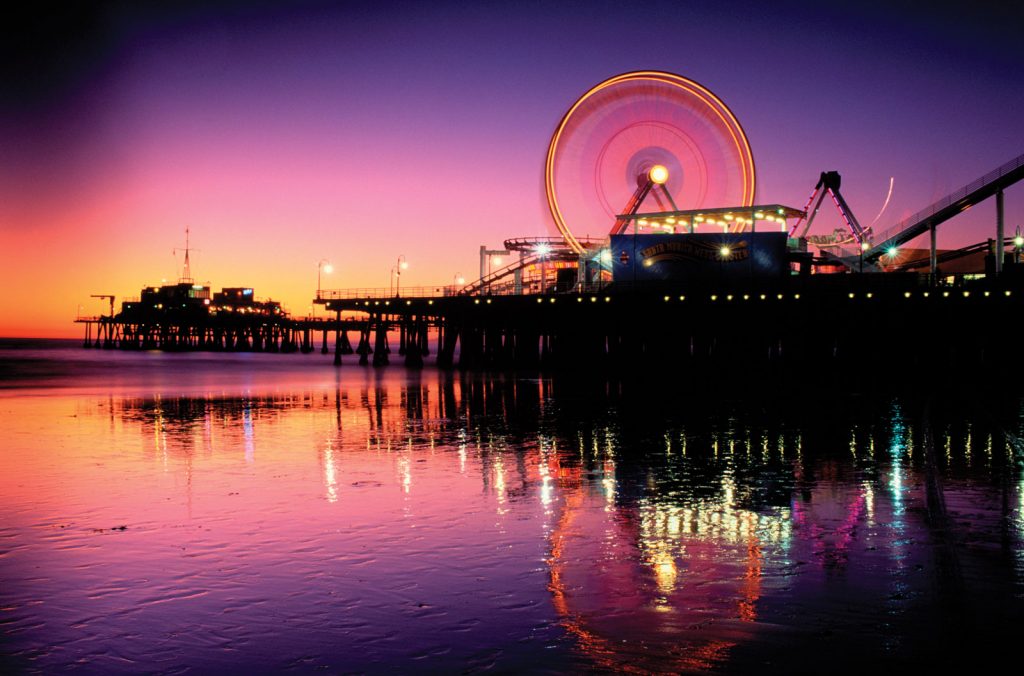 Photo Courtesy
Westside
Santa Monica
If you're looking for an upscale and trendy SoCal experience, head west to Santa Monica. Named one of the Top 10 Beach Cities in the World by National Geographic, Santa Monica is the most popular neighborhood in LA filled with both tourists and locals. If being mobbed by sightseers and buskers ain't your thing, skip Third Street Promenade or the Santa Monica Pier and opt for the quaint boutiques on Main Street. You'll find a lot more authentic restaurants and friendlier vibes closer east than its beachside.
Venice
Venice is the epitome of Southern California. Palm trees, tasty foodie spots, gritty street art and lots of fashion bloggers taking selfies in obscure alleyways. Whether you're admiring the views of the Venice Canals, strolling along Abbot Kinney or people watching the strange and depraved on Ocean Front Walk, Venice Beach is nothing short of a bizarre and intoxicating spectacle. Whatever you do, do it green and eco-friendly or prepare for a local lynch mob.
Brentwood
Cozy and quiet Brentwood is located just north of Santa Monica and is one of L.A.'s most affluent neighborhoods. If you haven't heard of it, there's good reason as its A-list residents make sure the suburb is a fairly well-kept secret. But one thing you have heard of is the beautiful Getty Center located the furthest point north of Brentwood. Wander the well-manicured area, stop by the Brentwood Country Mart and grab a bite before enjoying the striking views, architecture and art at the Getty Center.
Culver City
Cut right down the middle, Culver City is one of L.A.'s most historic and scenic neighborhoods filled with an abundance of diversity. On one side of Culver Boulevard, you will find yourself consumed by a rough, concrete jungle filled with many colorful characters. Travel deeper east into Culver City and you will find a beautiful and bustling neighborhood filled with trendy restaurants, shops and legendary film locations such as the Culver Studios and the original MGM Studios. Travel north within this hip neighborhood and you will be greeted by many start-ups, where there are more new and exciting businesses than anywhere else in Los Angeles.
Beverly Hills
If your first thought isn't The Real Housewives of Beverly Hills, Beverly Hills 90210 or the Playboy Mansion, you're doing it wrong. Beverly Hills is known worldwide as a premier destination for luxury. Shop your heart out on Rodeo Drive where you're sure to spot a celebrity or two having lunch. Visitors will enjoy a whacky bus tour throughout the city spotting famous houses and historical landmarks, but locals know it's all about dining out at ridiculously priced restaurants where it's more important to be seen than to eat.
West Hollywood
Second to Venice, this neighborhood might have the best people watching in Los Angeles. Home to the legendary Sunset Boulevard, West Hollywood is known for its gay community and the spectacularly awesome events it holds. The Gay Pride parade is one of the most famous LGBQT events in the world and you haven't done Halloween unless you've wandered half-naked on Santa Monica Boulevard. This major party destination hosts famous rooftop pool parties, local rock concerts and awesome dance reviews. But if this hasn't drawn you in yet, maybe the shopping and dining on Melrose, Robertson and West 3rd will.
The Valley
Sherman Oaks
All of the perks of Hollywood without the crowds, traffic or boujie attitude, Sherman Oaks is a relaxed haven for locals, shoppers and diners. Surrounded by great shopping, like the Galleria and Ventura Boulevard as well as fantastic pubs, sushi and cafes, you will have plenty to do in this prime spot of 'The Valley.' So long as your wallet allows you. But if you're into stealthily filming celebrities on your Snapchat, head into the lush, humble neighborhoods south of Ventura Boulevard and catch a star or two grabbing their organic pressed juice.
Studio City
Most come to Hollywood for the stars, but did you know Studio City has them too? Just north of the Hollywood Hills, this neighborhood has a reputation for being a major film location like the Brady Bunch, Gilligan's Island and CBS Studio Center. LA Hikers enjoy the vast view at Fryman Canyon and locals love the hidden gem of Tujunga Village. But the best part of Studio City isn't the shopping or nightlife but the comparatively friendly atmosphere.
Central LA
Mid-City
Imagine Mid-City as having a bit of an identity crisis, a happy mix of multiple neighborhoods. Part Beverly Hills, part WeHo, part Downtown, part Culver. Mid-City is not just the geographical center of L.A., but the hub for culture, art, shopping and dining. Nature buffs will love the La Brea Tar Pits while art lovers can enjoy the contemporary exhibits at the L.A. County Museum of Art. Shop at The Grove or legendary Melrose and make sure to grab a pricey bite anywhere on Mid-City's chic West 3rd Street.
Hollywood
You may know this place as Tinseltown, LaLaLand, the Entertainment Capital of the World or HollyWeird. Whatever you call it, you're at the heart of some major movie history! Hoards of tourists may be posing with street peddlers in jenky movie costumes, Instagramming the Hollywood Walk of Fame or checking out the Dolby Theatre (you know, the place where they host that little thing called The Oscars). Meanwhile, locals can be found enjoying the Pool at the Roosevelt or chilling in the Hollywood Hills. But wherever you are, pay tribute to the stars around you, look up and enjoy the Hollywood Sign from almost any spot in Hollywood.
Los Feliz
Want to know where the hipsters go? Welcome to Los Feliz, a creative neighborhood nestled south of Griffith Park and filled with a cool vibe that implies that the real LA is furthest from the beach. Stroll through Franklin and the neighborhood's historical shady streets steeped in architectural history, eclectic cafes, mom and pop shops, dive bars, diners and more for a taste of what Hollywood used to be. These Old Hollywood homes will have you dreaming of a gregarious generation filled with glamour.
Silver Lake
Think of Silver Lake as Los Feliz's more mature older brother. Same crowd, same vibe, although there is something less pretentious about it all. Sandwiched between Los Feliz and even grittier Echo Park, Silver Lake is a very diverse neighborhood, the majority being the Latino population. In its central hub is Sunset Junction, where you will find authentic Mexican cuisine, awesome gastropubs and cool, underground speakeasies. Currently on the up and up, you're going to want to keep your eye on this neighborhood. That is, if you can get through the traffic.
Downtown LA
Koreatown
This up and coming neighborhood west of Downtown has quite the eclectic mix of enticing cultures. Home of the recently Instagram acclaimed California Donuts, Koreatown is filled with a variety of exotic restaurants and historical, dilapidated homes. Korean BBQ is a culinary staple, but you will never run out of dining options between the hip dive bars, Korean fusion, speakeasies and Little Bangladesh lying north of the neighborhood. Just beware of the famous Korean spas. The beautiful but naked retreats are a little more different from any other spa experience, so don't say we didn't warn you.
The Arts District
The Arts District is a game changer. Full of warehouses that were once former factories and industrial businesses that have now become live-work lofts and upscale condos, this hip and urban area is on its way up when it comes to real estate. But before you buy your Sex-In-The-City-style apartment, grab a drink at some of the coolest bars in the city and enjoy the hip art scene as this neighborhood is filled with graffiti and art galleries. You'll be rubbing elbows with some serious artists and designers, so maybe their special somethin' will rub off on you.
Historic Core
If the name hasn't given it away, this part of Downtown LA has the most iconic landmarks, like the Bradbury Building, Grand Central Market, Orpheum Theatre and Los Angeles Theatre. There's a chance you're here for the awesome atmosphere at places like Perch, The Standard and The Last Bookstore, but most likely, you're here for the view.
South Park (South Los Angeles)
Come for the action, stay for the entertainment. Not to be confused with the funny and vulgar television show, LA's South Park is home to L.A. LIVE, Microsoft Square, Fashion Institute of Design and Merchandise, the STAPLES Center and the L.A. Convention Center. If you're a sports fanatic, fashion junkie or music head, you've probably been here more times than you can count. Always bring extra cash because if you're not tipping your parking attendant, you'll need it for the overpriced parking lots.
Financial District
Unlike its neighboring districts, the Financial District is a business-centered area filled with suits, urban culture, plenty of upscale eateries and top-notch hotels. It's here that you will find the world-class performances at the Walt Disney Concert Hall, Ahmanson Theatre and Dorothy Chandler Pavilion after a sunny, yet cool afternoon picnic at Pershing Square. Explore the Museum of Contemporary Art or the new Broad Museum where you can finally see why pictures of Yayoi Kusama's Infinity Mirrored Room have been filling up your news feed.
Pasadena (Northeast of Downtown LA)
Looking for a much-needed escape from the LA scene? Located a mere 10 minutes north of Downtown, Pasadena is like another world. If you're not here for a game at the world-famous Rose Bowl Stadium or catching a show at the Pasadena Playhouse, then you're probably visiting charming Old Town Pasadena with its upscale boutiques, pubs and cafes. What Pasadena lacks in a bustling cityscape it makes up for in a relaxed and charismatic getaway.
There is so much more to Los Angeles than meets the eye and more things to discover everyday! While I've missed a few spots (hey, this girl's got a word count to surpass and ignore), all the more reason to explore and search for the new, up and coming spots LA has to offer. Did your 'hood not make the list? Tell me what else I should add to this guide to Los Angeles Neighborhoods!