Eating gluten-free doesn't have to be boring. Whether you're dealing with celiac disease, gluten intolerance, or simply opting for a gluten-free lifestyle, we've got you covered with an array of tantalizing options in our wonderful and foodie-focused city of Los Angeles. Say goodbye to lackluster salads and uninspiring alternatives – prepare your taste buds for a culinary adventure featuring pizza that transcends the realms of cauliflower crust and pasta that rivals the traditional varieties. Los Angeles is home to a vibrant gluten-free scene, with exceptional eateries offering mouthwatering dishes that cater to your dietary needs without compromising on flavor or quality. From gourmet bakeries boasting heavenly gluten-free pastries to innovative restaurants serving up gluten-free fusion dishes that will make your taste buds dance, this city has it all. Get ready to hit up these best gluten-free dining spots in LA.
Pro Tip: if you have a medical necessity or severe allergy, don't hesitate to inquire about cross-contamination protocols to ensure a worry-free dining experience. This list features spots with gluten-free options, but remember to check with the establishment directly if it is a dedicated gluten-free facility.
Address: 1620 W. Sunset Blvd, Los Angeles
Neighborhood: Echo Park
You will relish your dining experience in this adorable and brightly lit counter-serve in Echo Park. We love their mission too, as Honey Hi is dedicated to thoughtfully sourced and prepared food. They prioritize developing relationships with the farmers that supply local, organic veggies, pasture-raised and grass-fed meats, and naturally gluten-free flours like buckwheat and hazelnut. For gluten-free choices, we highly recommend the breakfast bowl, and the sweet potato hash and sprinkle of paprika give it that smoky flavor that mixes beautifully with the lighter mixed greens and fresh herbs. On the sweeter side, the delectable and fluffy GF pancakes are served with macerated farmer's market strawberries, vanilla coconut whipped cream, and maple syrup. YUM.
Address: 1263 West Temple St, Los Angeles
Neighborhood: Echo Park
Not to sound too dramatic, but Thunderbolt is the gluten-free haven of our dreams. Also nestled in the heart where Echo Park, Historic Filipinotown, and DTLA converge, it combines upscale vibes with the cozy charm of a beloved neighborhood spot. Prepare to be amazed by their menu, which offers a tempting array of Southern-inspired dishes that are entirely gluten-free. Indulge in the heavenly delights of buttermilk biscuits, irresistible mac and cheese, and the finger-licking goodness of Momma Leah's Chicken Drummets, all crafted to perfection without gluten. Don't forget to order a plate of their delectable Kennebec Fries for sharing and treat yourself to one of their creative cocktails for the ultimate dining experience.
Address: 5583 W Pico Blvd, Los Angeles
Neighborhood: Mid City
My 2 Cents LA is a cozy dine-in spot in Mid City that believes in serving food straight from the soil to your soul. Chef Alisa Reynolds has proved that soul food can be both healthy and delicious and big names like President Obama and A$AP Rocky have enjoyed her twist on the traditional. Her commitment to catering to those with dietary restrictions without compromising on flavor serves as the engine to create exceptional comfort food dishes like GF Shrimp and Grits, GF friend-chicken, and quinoa Mac and Cheese that rivals the most breaded pub style kind. We also highly recommend the peach cobbler, but they run out of it quickly so this is one instance where it's good to order your dessert first!
Address: 6256 Topanga Canyon Blvd Unit #1200
Neighborhood: Woodland Hills
If you've been drooling over Modern Bread and Bagel NYC's gluten-free delights on TikTok, you'll be thrilled to know that their acclaimed bagels have made their way to Los Angeles. With a staggering 197 million views on their account, these bagels are hailed as the best in the Upper West Side and Chelsea. While the prices may seem a bit steep for a bagel sandwich or an open-faced avocado and smoked salmon dish, it's important to note that these bagels are crafted from scratch in small batches using premium ancient grains, which come at a higher cost than traditional wheat flour. With an array of tempting combinations, our current favorite is the Sweet Billy: an Everything Bagel (GF, of course) loaded with scrambled eggs, goat cheese, and homemade chili jam. Prepare yourself for a gluten-free bagel experience that's worth every penny at Modern Bread and Bagel LA.
Address: 2553 Lincoln Blvd
Neighborhood: Venice
401K Food and Wine Bar on the West Side is a culinary gem that features an array of gluten-free options from gluten-free mini corn dogs to gluten and dairy-free battered fish and chips. It's a great place to go on a date where you can still have a fun and romantic night without having to feel like there's nothing to eat. We had the GF zucchini blossoms and the chicken sausage meatballs with…get ready… gluten-free garlic bread. It's possible, friends.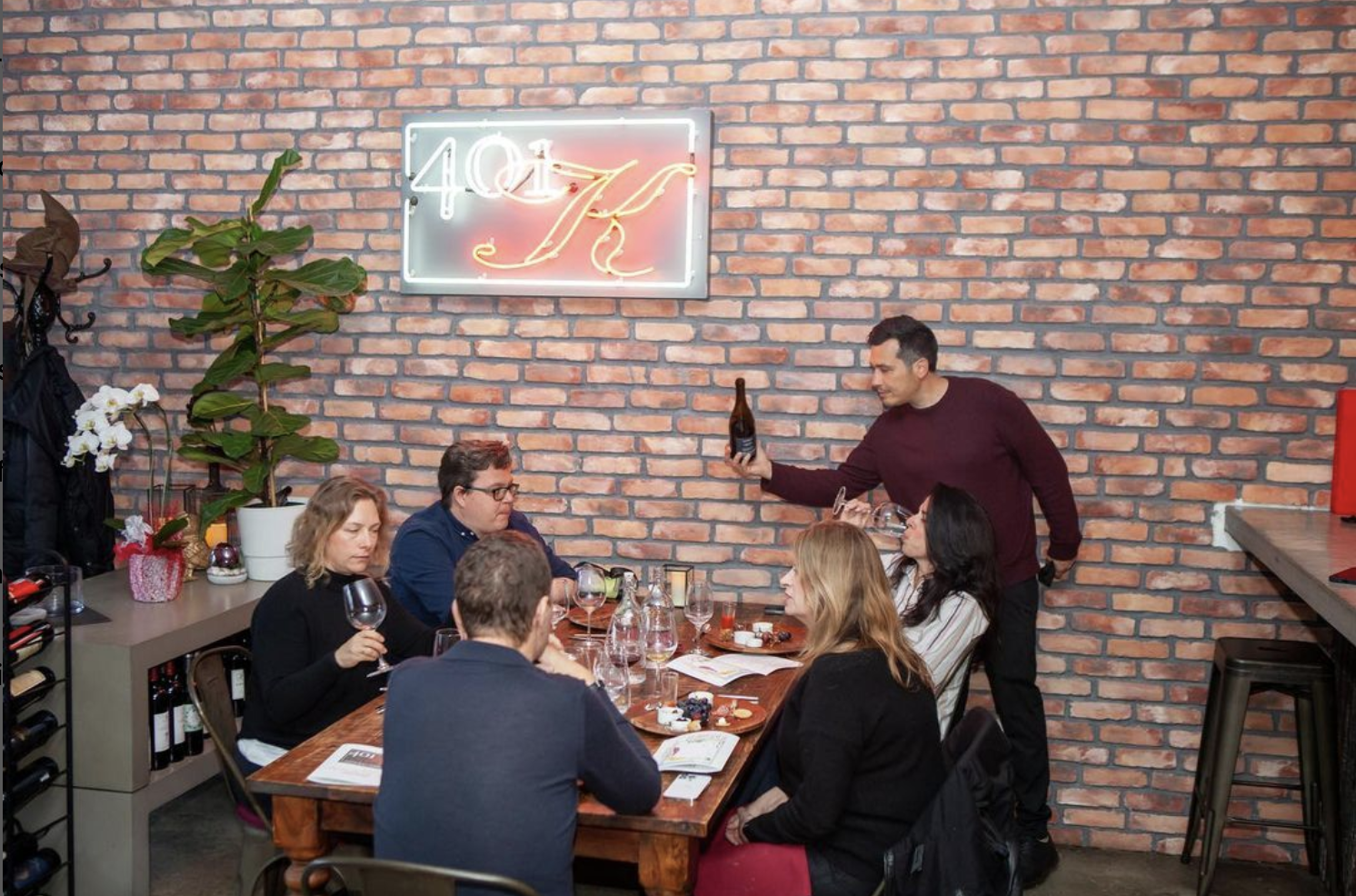 Address: 8755 Melrose Ave & 1205 Abbot Kinney Blvd
Neighborhood: West Hollywood and Venice
Whether you're looking for a meal after a day at the beach or getting ready for a night out in WeHo that won't leave you feeling too sluggish, The Butcher's Daughter has two bustling locations in LA and caters to gluten-free diners with an array of tantalizing options that showcase their commitment to taste and dietary inclusivity. Indulge in the creamy decadence of gluten-free avocado toast, served on their heavenly house-made gluten-free bread, where each bite unveils a harmonious blend of velvety avocado, artisanal spices, and a hint of citrus. For a truly satisfying experience, savor their gluten-free bowls, artfully composed with a colorful symphony of fresh vegetables, expertly paired dressings, and textural surprises that dance on the palate. From the zesty tang of a GF grain bowl to the umami richness of GF lasagna, The Butcher's Daughter elevates gluten-free dining to an art form, leaving you nourished, fulfilled, and eager to return for more.
Address: 7119 Melrose Ave
Neighborhood: Hollywood
When hunger strikes and you're in a hurry on Melrose, M Cafe is the go-to spot that never disappoints. With its focus on healthy, plant-based fare, it also offers an impressive selection of gluten-free options. Indulge in the delicious and nutritious vanilla chia pudding matcha bowl, topped with fresh berries and gluten-free granola, or satisfy your savory cravings with their spicy tuna roll made with GF polished brown sushi rice. M Cafe ensures that you can enjoy a satisfying meal that caters to your dietary needs without compromising on taste.
Address: 333 S. Alameda St., #310 & 12406 Washington Blvd.
Neighborhoods: DTLA & Culver City
From innovative sushi rolls to flavorful vegan dishes, both of Shojin's locations bring an elevated option to the discerning palates of gluten-free diners. The dining concept features food that is healthy for the mind, body, and soul using only the highest quality ingredients and organic whenever possible. All dishes are created originally and made from scratch and are vegan, gluten-free, and macrobiotic. The Chef's Special Tasting offers a sampling of some of their most popular dishes, such as the Rainbow Roll and Purple Treasure Roll featuring buttery eggplant as the star, both gluten-free. Shojin's GF adaptation of everything from traditional orange chicken to savory ramen is stellar.
Address: 236 N. Larchmont Blvd.
Neighborhood: Larchmont
No gluten-free dining experience in Los Angeles is complete without a visit to Erin McKenna's Bakery in Larchmont Village. In 2005, Erin McKenna's Bakery NYC made its debut on the Lower East Side of Manhattan, guided by two fundamental principles: to establish a bakery free from harmful ingredients and to adorn their team in adorable uniforms. Today, the bakery remains steadfast in its commitment to serving the underserved, catering to individuals with sensitivities to gluten, dairy, eggs, and soy, health-conscious individuals, and, most notably, allergic children who often face limitations in indulging. With a conscientious approach to ingredient selection and mindful use of natural sweeteners, the bakery aims to transform the experience of vegan and gluten-free dining into a delightful and scrumptious journey. This delightful bakery is a paradise for those with a sweet tooth, offering an extensive selection of gluten-free and vegan treats. From fluffy cupcakes to mouth-watering donuts and irresistible cookies, Erin McKenna's Bakery proves that gluten-free desserts can be just as indulgent and satisfying. There are SO many great things to get here, between the brownie bites, salted caramel donuts, and red velvet cupcakes, all gluten-free.
Although we love these gluten-free places, normally you can find any place with a GF menu. Head to these restaurants with some Hollywood history and check out their menus.