Yes, I said it. I love country music! I know a lot of people do too, though some people don't like to admit it. I'm proud of my love for country music. Being from LA, I don't find that many natives have the same opinion and I'm just here to share my reasons on why I love country music and my favorites songs and artists.
Perhaps this will intrigue you enough to get you to listen to a song or just keep your mind open when a friend asks you to the next country music concert.
It's all about the lyrics
I have a passion for words and when you listen to a country music song you can't help but feel what the artist is singing. Whether it's about an unbearable heartbreak or the build up to a heart-stopping romance, you can feel it deep down in your heart and soul.
One of my favorite songs is "Remind Me" by Carrie Underwood and Brad Paisley. It talks about a couple who was madly in love and after a while the flame has dimmed. They sing about the time when they couldn't keep their hands off each other and ask, even beg, the other to rekindle their love that used to be.
Earlier this month, Los Angeles got the Brad Paisley experience on his Country Nation College Tour, sponsored by Frontier Communications. He made a stop at UCLA where fans got to see him for free!
Each song tells a story
My favorite country songs are like heartfelt stories. You follow the person's journey and there is a beginning and an end. One of my favorite songs is, "Already Gone," by Sugarland.
It's about a girl who talks about her experience growing up, her first love, how they said goodbye, and how life continues to go on. My favorite line from the song is, "life is a runaway train you can't wait to jump on."
The sad songs are the best ones
I can't seem to not cry when I hear the Dixie Chicks' "Traveling Soldier." I'm not sure if it's because I have family and friends in the military, or it's just such an incredible song. I try not to listen to the super sad country music songs when I'm feeling sensitive, or else I would be crying all day.
No shortage of girl power 
Feel like dancing or need a pick me up? Listen to Shania Twain's "Man! I Feel Like a Woman!" or if you're going through a breakup "Before He Cheats" by Carrie Underwood is a popular go-to. These women are amazing and I'm all about the girl power!
The concerts are so much fun
If you love live music like I do, you'll have so much fun at a country music concert. Garth Brooks, Zac Brown Band, and George Straith have been known to sell out stadiums in a few hours and leave fans in a state of musical frenzy. Just don't forget your boots and your hat, and don't be afraid to dance!
The guys are pretty hot
Yep, I admit it. I, too, think Luke Bryan is pretty hot (along with a million of other girls around the world) as well as a lot of other country singers. I'm not sure if it's the hat, jeans, the accent, or maybe all of the above. Just don't tell my husband, who is also named Luke!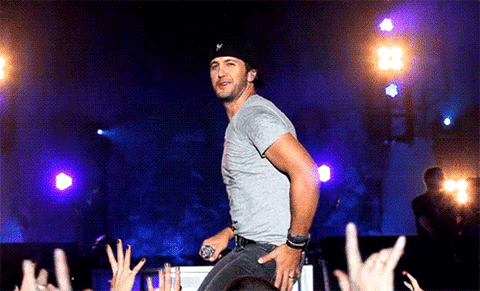 This post is sponsored by Frontier Communications. All opinions are my own. Thank you to my incredible sponsors for supporting my blog!