Start each day with the breakfast they say. We say start each day with breakfast at a bakery. TBH there is no better "brekkie" than a coffee and a baked good. It manifests the best vibes for the day ahead and sometimes it's hard to choose where to get that muffin, croissant, danish, or sourdough toast from the many LA bakeries that open their doors at sunrise each morning. No need to scroll Yelp to find one, check out this guide to find the Best Bakeries in LA and discover your new favorite morning meal, afternoon snack or maybe your new go-to spot to grab a loaf.
Location: 12835 Washington Blvd, Los Angeles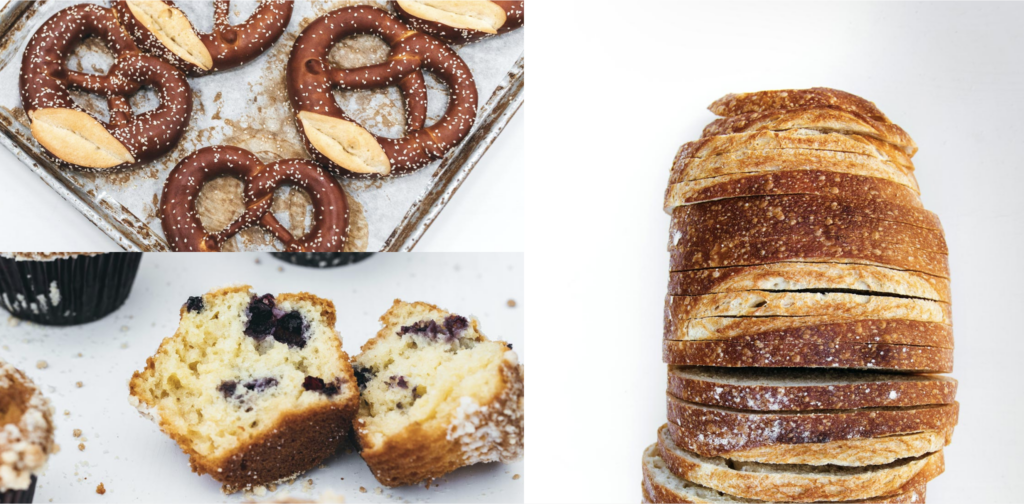 People head over to Röckenwagner Bakery when they want German-inspired pastries first thing in the morning. The shop is open from 6:30 AM to 4:00 PM every day, but you'll want to get there early to beat the crowds that empty the bakery's shelves. The weekday breakfast menu has everything from avocado toast to blueberry pancakes. Need to grab something on the weekend? It's one of the only bakeries in Los Angeles where you can get soft pretzels and apple tarts for a weekend treat.
The LA Girls Pick: A Linzer Bar & Matcha Latte
Location: 143 S Beverly Dr, Beverly Hills
You'll feel like you've walked into a breakfast paradise if you visit the Chaumont Bakery & Café. The Beverly Hills location is closest to downtown LA, but you can also find a Chaumont Bakery in Santa Monica. At either location, you can try their famous buttery croissants and sugary danishes. They also have a Chaumont Vegan cafe next to their Beverly Hills venue where you can get most of their menu items made with plant–based ingredients like nut butters and dairy-free milk which is good fuel for the body. Check out either option between 7:30 AM and 3:00 PM any day of the week.
The LA Girls Pick: One Pain Suisse & an Americano
Location: 8500 Beverly Blvd #103, Los Angeles
If you think of French pastries when you picture a bakery, visit Pitchoun! when you're in LA. The owners make authentic French breads, pastries and meals from scratch. They also have seasonal treats that are delicious as they are beautiful. We love Pitchoun! for its variety of breads and legendary sides. You can add prosciutto, smoked salmon or curling towers of bacon to your breakfast if it would brighten your morning. There are no wrong choices when it comes to Pitchoun!'s creative and savory menu items. Try them for yourself between 8:30 AM and 3:30 PM each day of the week.
The LA Girls Pick: A Parisian Omelette & an Iced Cinnamon Espresso
Location: 3507 Eagle Rock Blvd, Los Angeles
Visit Bub & Grandma's to feel like you've stepped into your second home. The inviting vibes and laid-back atmosphere invite every visitor to sit and dine for a while. We love catching up with friends at the wrap-around counter while snacking on almond cakes and blueberry donuts. Pick up a box of sweet treats to make every breakfast extra special this week. The bakery is open from 8:00 AM to 3:00 PM every day.
The LA Girls Pick: A Granola Bowl With Yogurt and Jam & a Cortado
Location: 20929 Ventura Blvd Uit 22, Woodland Hills
At Lodge Bread you will be blown away by the size of their cinnamon roll. It's literally the size of Bear claw, (the animal not the pastry) and big enough to share. Lodge Bread has 3 locations around LA, including Culver City, and are open daily from 8am-4pm. They offer a great morning and afternoon menu of light Toasts, croissants, and buns plus savory lunch menu items like salads and sammies. Our team stopped by Lodge Bread in Woodland Hills for lunch and gobbled up their cinnamon roll (it was fluffly, light and sweet), yummy salads, lemonade and of course coffee. When we left we made sure to take home one of their best selling country loafs for later or the drive home.
The LA Girls Pick: Sourdough Cinnamon Roll & Espresso Soda
Location: 1110 S Western Ave #101, Los Angeles
Koreatown has numerous incredible places you can try when you need breakfast, but you should stop by Coin de Rue Bakery first. It's one of the best bakeries in LA and serves customers from 8:00 AM and 9:00 PM most days, with the exception of when the bakery closes at 6:00 PM on Sundays. Check out their incredible menu to try things like matcha sweet cream mochi and gourmet coffees. We love this bakery for its famous green onion pesto loaf. When served fresh, you can pull the green bread apart and savor each bite of melted cheese, pesto and scallions. Grab a seat early if you're meeting friends — the shop is a popular place for people to hang out in the downtown LA area.
The LA Girls Pick: An Injeolmi Cream Bun & a Caramel Latte
Location: 335 N Fairfax Ave, Los Angeles
You know you're in for a fantastic meal when you visit one of the oldest bakeries in Los Angeles. Diamond Bakery has been serving customers for over 75 years and dazzling food critics with challah, honey cakes, soft pretzels, babkas and rugelach. Try whatever gorgeous pastries catch your eye between 8:00 AM and 2:00 PM Saturdays through Thursdays, plus Fridays between 8:00 AM and 4:00 PM. We can't stop thinking about the chocolate ring with cocoa crumbs that was our favorite part of last week. If you aren't ready for chocolate so early in the morning, you'll also love the cinnamon coffee muffins and puff pastry apple logs.
The LA Girls Pick: A Slice of Challah & a Double Shot Espresso
Location: 211 South La Brea Ave, Los Angeles
Whisk your tastebuds away to Saint Tropez without the expensive vacation packages. La Tropezienne Bakery will bring the South of France to you whenever you stop by for breakfast or for dessert. We can't rave enough about the bakery's raspberry macaroon cakes and marble interior design. The high-end shop is dazzling, along with its budget-friendly menu prices.While you compare the best bakeries in LA, try the sugar-dusted fruit tarts or brioches. The crowd-pleasing pastries on display won't disappoint. Get there when the bakery opens so nothing runs out of stock. The doors open 8:00 AM to 4:00 PM on Tuesdays through Thursdays and 8:00 AM to 5:00 PM Fridays through Sundays.
The LA Girls Pick: An Almond Pistachio Crossant & a Cappuccino
Location: 3156 Glendale Blvd, Los Angeles
You'll never think of cakes and pastries the same way again after stepping through the doors of Proof Bakery. It's one of the most popular bakeries in Los Angeles because the employee-owned venue is always creating new menu additions. You'll find everything from European to American breakfasts, like ham and gruyere croissants or blueberry yogurt cake slices. Check out the brunch sandwiches too, if you're ready for a late breakfast. The bakery is open between 8:00 AM and 4:00 PM on weekdays and 8:00 AM to 3:00 PM on weekends.
The LA Girls Pick: A Fruit Danish & a Hojicha Latte
Location: 5271 Hollywood Blvd, Los Angeles
Trying international foods is the best way to get more variety in your breakfasts. People love Bhan Kanom Thai's options because their bakery has Thai delicacies you won't find anywhere else. The glass counter protects colorful, sweet treats made fresh every day. You'll adore their coconut pancakes and custard buns while they're open between 10:00 AM and 10:00 PM daily.
The LA Girls Pick: A Chicken Sausage Bun & Pink Boba Milk
How about we keep the delicious meals coming? Check out these popular lunch spots in LA.